Smart Scanning for Laser Marking Projects
SCANLAB expands the successful SCANcube product family
SCANLAB GmbH, leading provider of laser scanning solutions, presents a new scan system. The SCANcube IV, as the primary representative of this product range, features optional read-back functions, thereby providing an essential process monitoring component. Compared to the SCANcube III, the system linearity has been improved by 30 percent. The new housing design is both visually appealing and a functional element of the optimized heat management concept. With specific tunings, the new scan head can be optimally configured for various customer needs. One thing that remains unchanged in the new scan head generation is its outstanding price-performance ratio.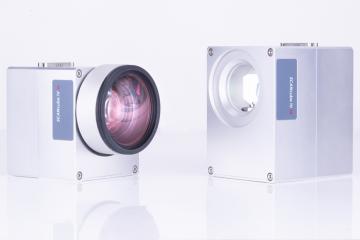 The requirements on a scan system can vary hugely depending on the laser machining process in which it is to be used. Laser marking or laser engraving processes, for instance, have very different requirements in terms of positioning speed or tracking errors compared to the requirements of processes in additive manufacturing (3D printing). To take these differences into account while still offering a flexible, cost-effective solution, SCANLAB presents the latest generation of their successful SCANcube product family.
The new SCANcube IV can be perfectly configured for the required application using different tuning and mirror variants. In combination with an RTC control board, optional read-back functions for system monitoring and diagnostics are now available. This means that the actual position, temperature and other status values can be queried reliably during operation.
The system linearity , which has been improved by 30 percent compared to its predecessor the SCANcube III, makes calibration easier and enables more precise processing results. What's more, the new elegant, dust-tight housing provides optimized heat management and ensures that the system always keeps a 'cool head', even during demanding applications.
At the time of its market launch, the SCANcube IV is available to order immediately with a 10 mm or 14 mm aperture.
Comunicato Stampa Italiano
Scansioni intelligenti per marcatura laser 
SCANLAB amplia la collaudata famiglia di prodotti SCANcube
SCANLAB GmbH, leader nella fornitura di soluzioni per scansioni laser, presenta un nuovo sistema di scansione. Essendo il primo modello di questa famiglia di prodotti ad essere dotato di funzioni di rilettura opzionali, SCANcube IV offre un contributo importante al monitoraggio dei processi. Rispetto a SCANcube III, la linearità del sistema risulta incrementata del per cento. Il nuovo design dell'alloggiamento assolve a una funzione non solo estetica ma anche funzionale, ottimizzando la gestione termica. Con opportuni interventi, la nuova testa di scansione può essere configurata al meglio per soddisfare le diverse esigenze dei clienti. La nuova generazione di teste di scansione mantiene inalterato l'eccellente rapporto qualità/prezzo.
媒体报道
面向激光打标任务的智能扫描 
SCANLAB 扩展了成熟的 SCANcube 产品系列
激光扫描解决方案的领先供应商 SCANLAB GmbH 推出了一款新型扫描系统。SCANcube IV具有可选的回读功能,从而成为了过程监控的重要功能模块, 是该产品系列第一个具有此功能的代表性产品。与 SCANcube III 相比,系统线性度增加了百分之 30。全新外壳设计不仅极具吸引力,并且是能优化热量管理系统的功能性组件。使用合适的调校对新扫描头进行最佳配置

ПРЕСС-РЕЛИЗ
Интеллектуальный сканатор для задач лазерной маркировки
SCANLAB расширяет проверенную линейку продуктов SCANcube 
SCANLAB GmbH, ведущий поставщик решений для лазерного сканирования, представляет новую систему сканирования.   SCANcube IV - первый представитель этого семейства продуктов, имеет дополнительные функции обратной коммуникации, тем самым обеспечивая важный компонент мониторинга процесса. По сравнению со SCANcube III линейность системы улучшена на 30 процентов. Новый дизайн корпуса не только привлекателен, но и является функциональным компонентом оптимизированного управления тепла. Благодаря специальным тюнингам новую сканаторную головку можно оптимально настроить в соответствии с различными потребностями клиентов. Что осталось неизменным в новом поколении сканаторных головок, так это отличное соотношение цены и качества.