Flexible Machine Concepts thanks to fiberSYS
Compact scan system for multi-head laser processing machines
SCANLAB has developed a scan head to ease the integration into multi-head laser processing machines. The innovative system design, in which the position of the beam exit has been changed, allows maximum overlap between the scanners and their image fields.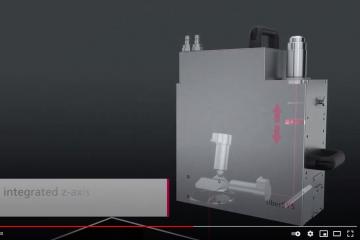 For some years now, there has been a trend in the field of additive manufacturing (especially 3D printing in powder beds) towards the use of multi-head laser machines. This is easy to explain, as the combination of several scan heads leads to a significant increase in productivity, especially for large-scale components.
With fiberSYS integrators can choose a modular system platform to realize a large variety of machine concepts. Features, such as an integrated z-axis, a fiber adapter and an interface for process monitoring, make the scan head a handy and flexible component.
Discover more about fiberSYS in the video