Alternatively, these websites may already contain answers to the topic :
Nonlinearity describes image field distortions that can't be attributed to linear effects such as Gain Error, Offset Error and Skew Error.
What causes nonlinearity?
Ideally, the position detector's return signal is proportional to deflection (linear behavior). Deviations from this linearity manifest as distortions in the image field.
The maximum deviation along the axes – caused by the linearity – is typically specified in mrad optical/44°. It represents the maximum angular difference between the theoretical and actual position within the specified angle range.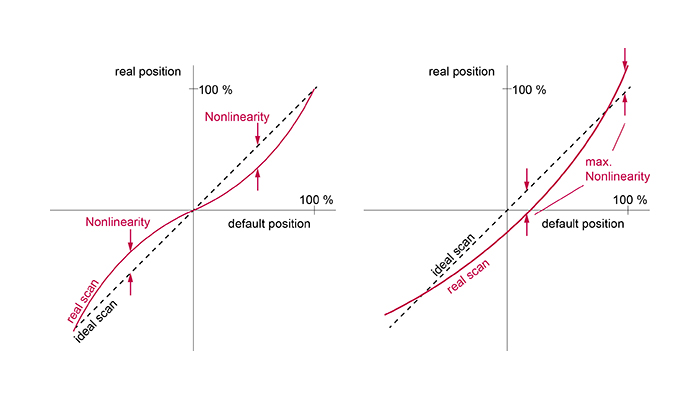 The graphic's two examples illustrate nonlinear behavior (red curve) compared to an ideal scan (dashed line).
Remedy
Nonlinear errors can be eliminated by applying image field correction (e.g. with correXion pro).
Lasers as Tools
By transforming lasers into universal tools, scanning solutions help to add functionality and value to materials. SCANLAB's broad palette of scanning solutions fulfills demands for higher speed, more precision, greater efficiency or improved environmental compatibility.