Higher Productivity Through Intelligent Scan Control
Video Explaining the Benefits of SCANahead Control
Intelligent scan system control technology can speed up laser manufacturing noticeably.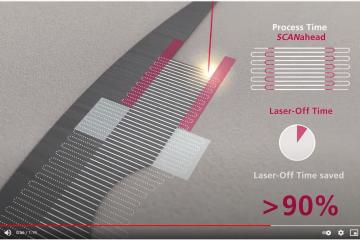 Scan heads are the core component in laser processing machines. In challenging applications, for example in additive manufacturing (3D printing), the scan system must guide the laser beam precisely and highly dynamic.
The predictive SCANahead control allows to increase productivity and to exploit the full dynamic potential of the scan head. The video explains how this technology works.
SCANahead is available as standard in the entire excelliSCAN series.