for use in multi-head systems
Compact Scan Head with Integrated Z Axis
As a slim 3D scanning system, the fiberSYS is ideal for multi-head systems. It is designed for a power of up to 1 kW and optimized for single-mode lasers. The low- drift XY scan modul and the fast z axis guarantee precise and long-term stable processes. The compact and sealed housing with a direct fiber connection can be easily integrated into machine concepts.
Highlights
Maximum Image Field Overlap

The narrow footprint allows a close arrangement of the fiberSYS in a multi-head system
Result: shorter production times for example in additive manufacturing, and a higher productivity overall

Interface for Process Monitoring

Optomechanical interface for coaxial process monitoring, e. g. for connection of a pyrometer
Optional: Open Interface Extension for synchronisation of sensor and process data

SCANahead Control
With SCANahead control, the fiberSYS always reaches the set scan speed using the maximum acceleration. The dynamic potential of the galvos is fully utilized. In additive manufacturing, two dimensional structures are typically realized by bidirectional hatching. A large part of the process time in scan systems with conventional control is required for the turnaround times for acceleration and deceleration processes. The fiberSYS with SCANahead control significantly reduce these turnaround times and therefore contribute to a significant increase in productivity.
Benefits
Increased productivity
Shortened process time
High contour accuracy and long-term stability
Example: Additive Manufacturing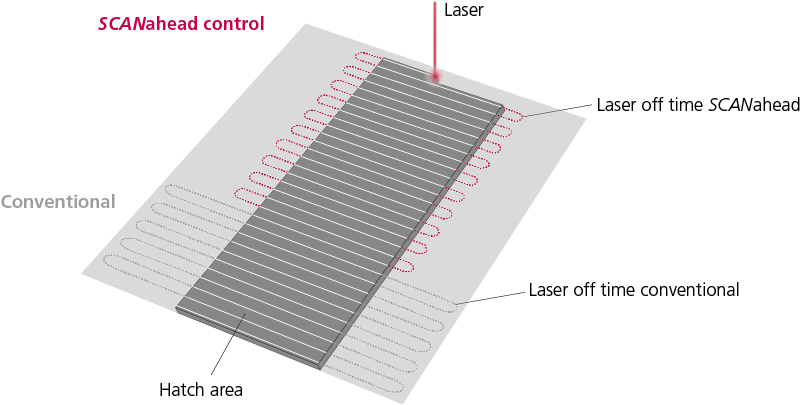 Learn More in the Videos:
The fiberSYS scan system
...a handy modular system for both integrators and laser machine builders.