Laser Marking and Processing Made Easy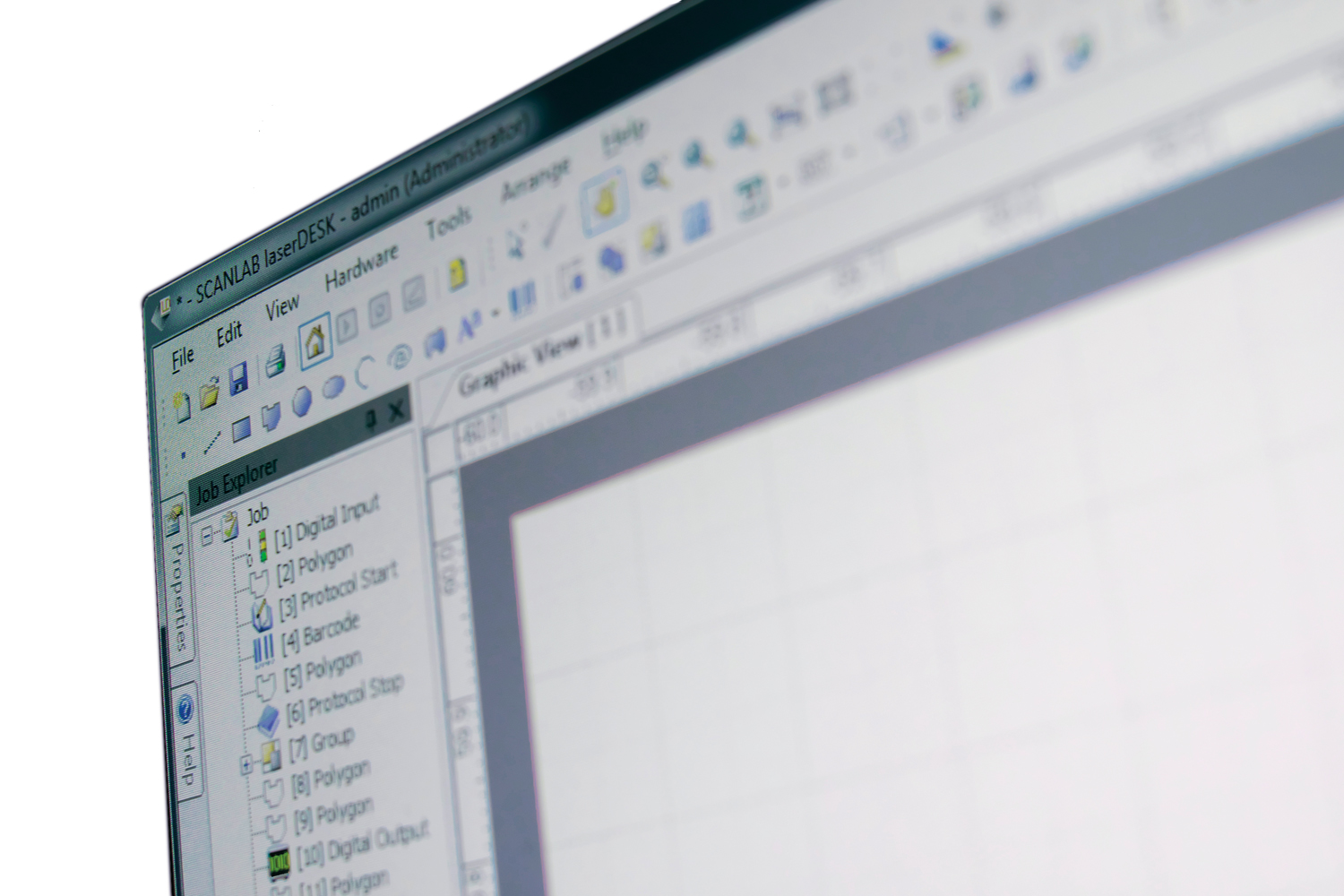 laserDESK is the professional software for laser marking (laser engraving, coding, etc.) and material processing.
laserDESK serves as the control center for your laser processing system's components including the graphical user interface for creation, editing and execution of your complex laser jobs.
laserDESK supports all RTC5 and RTC6 control board functions and iDRIVE functions.
 

Highlights
Complex laser material processing 
and geometry of markings are defined in the laserDESK graphical user interface.

File import and post-processing of
- 2D and 3D vector graphics (dxf, ...)
- stl files and slicing
- bitmap files (png, jpg, ...)
- external text files

Variable objects
such as serial numbers, barcodes, imported texts and graphics are managed independently by laserDESK, ensuring uninterrupted, real-time execution.

Support of 2D and 3D scan systems
through creation and import options for 3D geometries. laserDESK controls SCANLAB's dynamic focusing system (e.g. varioSCAN) accordingly.

Support of 

excelliSCAN >

 functions
such as SCANahead and Spot Distance Control.

Remote control and automation
from another application program or PLC. laserDESK runs in the background and  controls the scan head and other connected hardware.

Support of 

RTC5 >

 and 

RTC6 > 


and integration of newly developed RTC6 functions in laserDESK.

Control of mechanical axes
via the serial interface of the PC as part of the laser job. laserDESK can thus be the control center for the entire laser system and control any motors.
Editions
Standard Edition
Standard Edition plus Remote Control
Premium Edition
Office Edition

all essential features for creating and executing laser-marking and materials-processing jobs
 alignment, combine and repeat functions
special hatch line sorting functions and the control of all hardware components
calibration tools
language selection (de, en, zh)

all standard edition functionality
remote control feature

all standard edition functionality
remote control feature
highly specialized features:
- 3D support
- tiling
- ramping
- SCANahead (with  excelliSCAN)
- logging of sent RTC commands
layer cuts of stl-files for rapid prototyping and deep engraving applications

conceived exclusively for creating laser jobs, not hardware control
for executing jobs created with the office function, basic, standard or premium edition are needed
All detailed features of the respective editions can be found in the editions overview.