laserDESK Features
SCANLAB's laserDESK software lets you easily create and execute professional laser marking and material-processing programs (laser jobs). Its clearly organized interface provides all needed functionality, including setup and control of all your laser processing system components.
laserDESK controls your hardware via SCANLAB's RTC5 and RTC6 control boards. This means you'll also have direct user-interface access to the iDRIVE functionality of SCANLAB's newest-generation scan heads.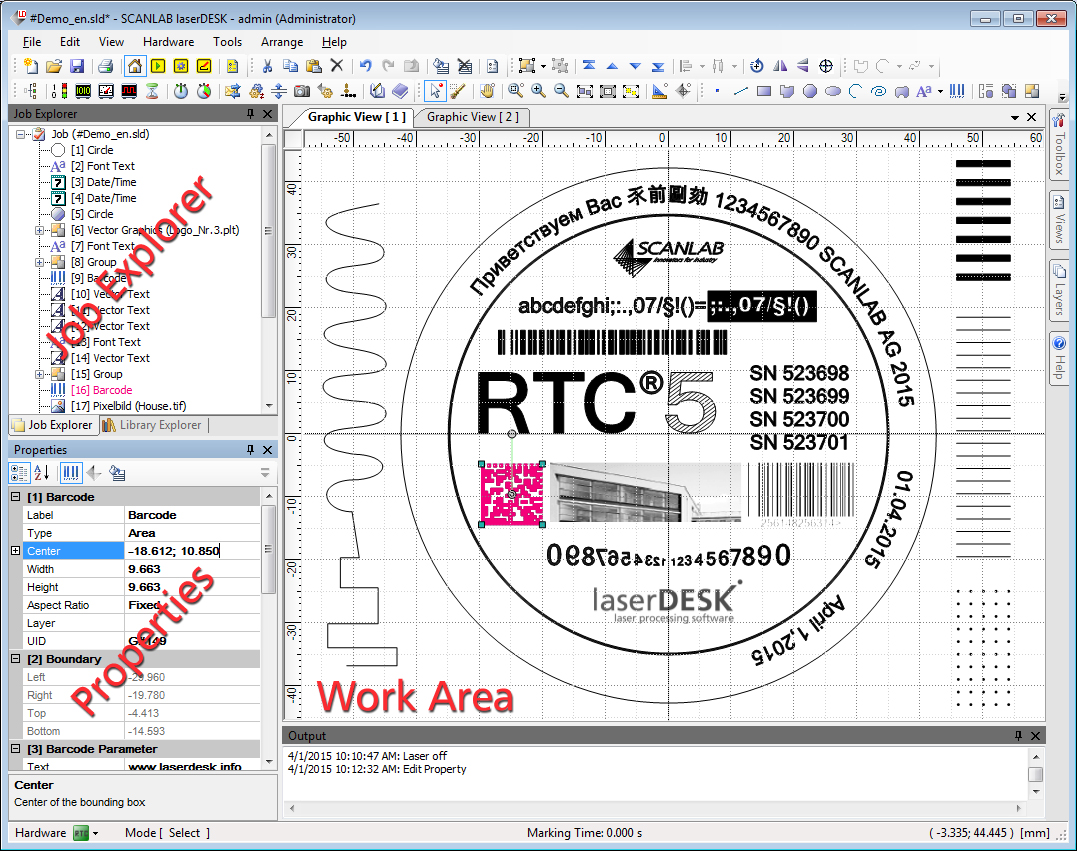 As a system integrator, you gain equipment planning, assembly and maintenance advantages, because laserDESK is perfectly tuned to SCANLAB's scan heads and RTC control boards. laserDESK provides all functionality for configuring, testing, calibrating and monitoring your laser job. And you can assign user-specific rights to ensure stable production processes.
As a laser job designer, you'll value how laserDESK provides everything needed to create customized marking templates. laserDESK's feature set and graphical interface are familiar to anyone who has used popular graphics programs. Process parameters can be individually assigned to any marking object. When creating and managing laser jobs, you'll benefit from library functions for reusing marking objects and parameter sets. Control elements enable the interaction between laserDESK and external devices (e.g. a PLC or axis controller) during a running laser process. This allows you to integrate laserDESK into a production line via simple functions. During production, your external control signals can also select alternate program sequences.
laserDESK's high quality is the result of SCANLAB's years of experience developing and manufacturing scan systems and serving the laser materials processing industry. The company's skilled software team ensures professionalism and continuous laserDESK development via .NET.